Our family like so many millions of families are affected by seizures and seizure related syndromes. No matter the causes, head injuries, epilepsy, autism, cerebral palsy, down syndrome, injuries at birth, diabetes and unfortunately many more situations, it's not an easy life when you or a loved one is living with seizures.

If you're reading this then you probably already know how frustrating this can be.

Like many people living with seizures for whatever reason, dinner tables, desk corners and all those corners around us cause many injuries to the head and face and sometimes trips to the emergency room because seizures usually happen fast and with no warning.


If You Or Your Loved One Has Seizures....

Hard, Sharp Corners Are A Serious Issue!

We are a family living with seizures and have invented the Safety PlaceMat out of necessity. While having dinner at a local restaurant, my husband Steve would keep his arm placed over the corner of the table to prevent our son Joshua from hitting his head on the corner...again.

While eating with one hand, Steve moved his arm from the table for only a split second and sure enough BAM! Joshua had a drop seizure and hit his head. You could hear it hit from across the restaurant. It was a very sad moment for us. It was at this moment we decided there must be something we could do because we couldn't continue to live like this.

After hours turned to days then to weeks, we finally came up with the design of the Safety PlaceMat! Our main focus is to offer protection from the table corners so we could simply have a normal dinner together as a family. Through customer feedback we are quickly learning this is a product that has far more uses than we ever thought.

While designing the Safety PlaceMat we searched for material soft enough to protect Joshua from injury yet would be of high quality and last as long as possible. Due to so many seizures, many times 20 a day, we added a ridge around the base so that when Joshua dropped his drinks, most of the spill would stay inside the mat area and not all over the table and floor. Even though we never thought about it, people are using the Safety PlaceMat simply to keep their children's messes contained in one area.

Yes, we originally made this for Joshua but with the millions of people in our situation, we have decided to make them for others who need them. Because epilepsy treatment is not free and not everyone has insurance, we are determined to make it as affordable as possible. A 30 day supply of meds for Joshua costs over $1,500 a month.


"We love our mats- 3 now in total!!! They give us such comfort that we can
turn our heads for a minute to prepare food in the kitchen and know our
daughter will have a cushion during her seizures.

My daughter even has a mat at school that she takes with her from the
classroom to the lunch room too!.

The school is very grateful to have it as well."

- L. Siegel -
Westchester , NY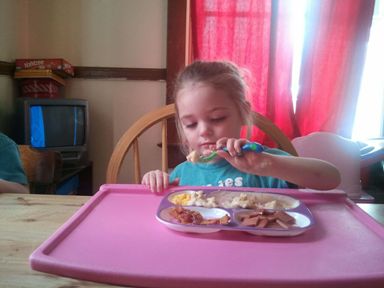 "I just wanted to tell you we LOVE our new placemat! Here is my
daughter eating her favorite meal of the day, breakfast! We can finally
sit her at the table and not be scared that she's going hurt herself!
Thanks again" - J. Tackett - Plymouth, OH
| | | |
| --- | --- | --- |
| | As Seen On TV | |
Finally there's a simple solution for a complex problem!

The New Safety PlaceMat®
Use it when you eat by placing your plate, utensils and drink directly on the placemat. Use it at school or the office by placing your work or computer keyboard directly on the Safety PlaceMat. We're trying our best to bring some sort of normalcy back into our daily lives.
I just received my safety place mat and I'm thrilled.

My son has drop seizures that come and go so quickly that often there is no time to respond and prevent him from hitting his head on something.

This mat will enable him to eat at the dinner table again!
I'm also planning to buy another for school.

Thanks for this great product.

- M. Hebert Saratoga Springs, NY
Not Only For Those With Seizures

Even though we originally designed the placemat for our son, we are learning from users that they are being used for many different applications.

Moms of infants are using them on the table during feeding times.



They are being used in restaurants simply to keep the down the mess our kids seem to always be making. Clean up is usually a simple wipe with a napkin and viola, no more embarrassed parents and no more dirty looks from the waiter.



School boards have purchased many of them to use in the lunchrooms as well as their special ed departments.



Several hospitals and neurologists are using them.

We decided to designed this for office or home computer use as well so we "grown ups" can place our computer keyboards on the placemat. We have students even do their homework on the placemat.
| | |
| --- | --- |
| Designed By Those Actually Affected By Seizures. | |
We feel it's important to tell you the Safety PlaceMat was not designed by some large corporation looking for a product to make millions of dollars in profit from. This is a product design which went from injury to table napkin drawing to trial and error items made right in our garage to finally the finished product you see here.

The testing was not done in some lab or board room but right in our home. The tester is our son who unfortunately has had over 25,000 seizures and counting. I don't know of a better designer or tester found sitting on any corporate board!

We did NOT make the Safety PlaceMat to become rich! The fact is, this project is not even....um even. Yes, many people think mainly about money but my guess is these people don't have a special needs child. We totally understand the needs of a family with a special needs member. This is why we are doing everything we can to keep the cost of the Safety PlaceMat as low as possible and still survive.
Remember, we originally made this for Joshua and if we can help others in the process, great!

So now you know the story, our background and our goals as related to the Safety PlaceMat. I hope we can help you or one of your loved ones. We wish all the best in your search for help should this be your situation.
Sincerely,
Danielle Duce

Use it at home, school and at the office to protect yourself, your family member or your patients from potential physical injury from all those corners in our lives!
Making This World Just A Little More Safe!
We love the Safety Place Mat! It has helped in quite a few episodes to protect our daughter's face.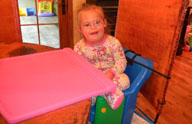 We just got back from vacation and we took it with us everywhere to eat too...so easy to clean!
- J. Byrge - Ohio
The NEW Safety PlaceMat!

Now Protecting Children and Adults Worldwide.

Computer & Office Desks

Schools

Day care

Restaurants
Eating Tables
Hospitals
Nursing Homes
Wheelchair Tables


Use It Anywhere Corners Could Cause Injury Or Simply To Contain Little Messes & Spills
Physician, Hospital & School Board Discounts Are Available!
A Portion Of Every Purchase Is Given To Support Various Foundations Who Support Seizure Research And Families Affected By Seizures! If You Have A Specific Foundation You'd Like To Support, Please Contact Us.